IN THIS ISSUE
Sydney Live Broadcasts

O-TTPS

™ Published

Recent Blogs

In the Media

New Members

New Publications

Future Events

Join our Latest Webinar

Presentation Submission Dates
Open Trusted Technology Provider Standard (O-TTPS)™ Published
The O-TTPS is an open standard containing a set of organizational guidelines, requirements, and recommendations for integrators, providers, and component suppliers to enhance the security of the global supply chain and the integrity of Commercial Off The Shelf (COTS) Information and Communication Technology (ICT).

This standard if properly adhered to will help assure against maliciously tainted and counterfeit products throughout the COTS ICT product life cycle encompassing the following phases: design, sourcing, build, fulfillment, distribution, sustainment, and disposal.

Download the standard here
JOIN OUR LATEST WEBINARS
Join us on Thursday, April 25 at 11:00 a.m. ET/4:00 p.m. BST for our next webinar by Martin Owen
(CEO, Corso) entitled:

Building Business and IT Roadmaps


Join us on Tuesday, May 7th at 11:00 a.m. ET/4:00 p.m. BST for a webinar by Bas Van Gils PhD (EA Consultant, BiZZdesign) entitled:

Building a Data Management Capability with TOGAF® and ArchiMate ®

Stay Involved via Live Broadcasts
The Open Group will be running a series of live broadcasts from Sydney. This will provide a valuable opportunity to get involved in this event which will examine how EA can transform an enterprise. Broadcast sessions include:
PLENARY SPEAKERS:
Allen Brown, President & CEO, The Open Group

Peter Haviland, Chief Architect, Ernst & Young

Roger Venning, Chief IT Architect, NBN Co Ltd

Dai David, Global Chief Architect, RIO Coal

Craig Martin, Chief Architect, Enterprise Architects
There will also be live broadcasts of some of the tracks. To participate in these live broadcasts or view the recordings on demand, please register at: https://new.livestream.com/opengroup/
Send your summary of some of these Sydney conference sessions to us at socialmedia@opengroup.org and we will post the best ones on The Open Group Blog.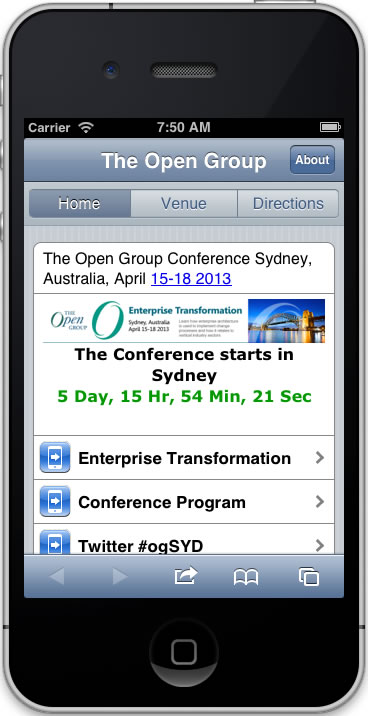 ---
>View the Program for The Open Group Conference in Sydney, 15-18 April, 2013

>Conference and Training Promotion for Sydney
---
NEW MEMBERS
The Open Group would like to welcome the following new members:
PRESENTATION SUBMISSION DATES

London, UK - July 8, 2013
Join in the conversation with over 5000 individuals on our LinkedIn Group.
Visit
The Open Group LinkedIn Group
>
FACE is a trademark and ArchiMate, Jericho Forum, TOGAF and UNIX are registered trademarks of The Open Group in the United States and other countries.